ContinenceCare Freight Policy

In short, you as the customer are the most important person. You receiving your order promptly and discreetly is our top priority. If you have any issues whatsoever please call 0800 72 38 72 between 9am and 4pm Monday to Friday or email info@continencecare.co.nz
If you have received a product from ContinenceCare and wish to return it, please see our Product Return Policy
Will my order be shipped in discreet packaging?
Yes.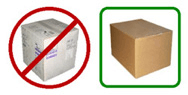 All orders are discreetly shipped in totally plain and discreet packaging.
We protect and respect your privacy.
People will not know what is inside your box from the plain and discreet packaging that we use. (No need to worry about nosy neighbours or inquisitive in-laws)
Only the name and address you provide will be on the address label.
Your order will be delivered to you within 1-3 working days. (Deliveries to rural/remote locations could take longer)
What are the freight costs for my order?
Free Courier NZ Wide on orders over $150. $9.95 Courier NZ Wide on orders under $150.
Can you send my order to a PO Box or Private Bag Address?
Yes, as long as the address is within New Zealand we can send it to you.
Authority to Leave Standard for all orders sent
Our courier drivers have been given authority to leave your parcel in a safe place at your designated address. This is unless a signature delivery has been specifically requested by you.
Any special delivery instructions that have been entered in as part of the checkout process will be followed (i.e. Leave in the letterbox or at backdoor).

Delivery within New Zealand Only
An overseas order may be placed with a New Zealand delivery address. Currently, we do not deliver outside New Zealand
Delivery within 1-2 days
We endeavour to deliver all items within 1-2 working days of us confirming receipt of your order. Deliveries to rural/remote locations could take longer.